---
Our Flagship Product - The Innovative Biophysical Input Sets The New Standard For Skincare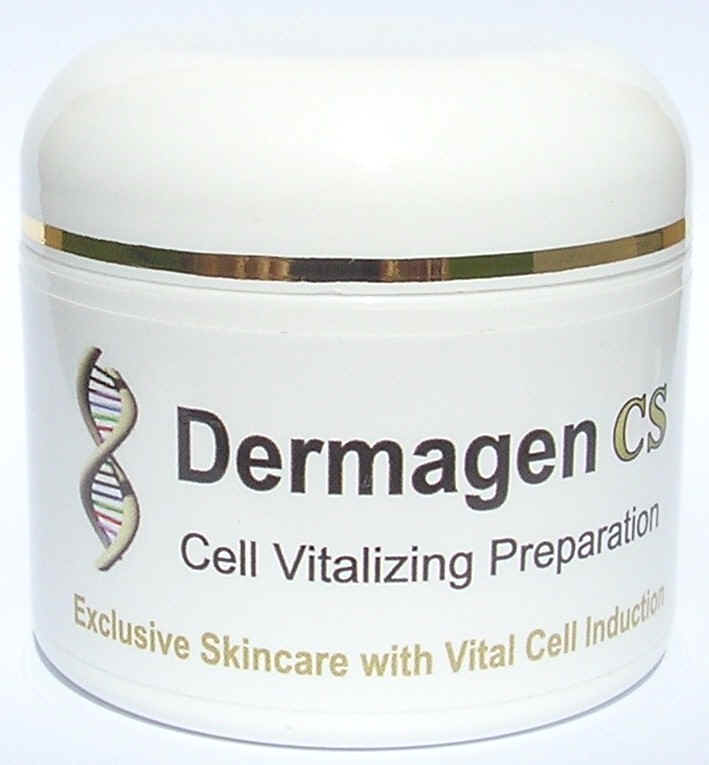 Dermagen Cell Vitalizing Preparation™
Maintain youthful looking skin...
Providing you with a highly advanced skincare regime that gives you results you can see in the mirror! Starting immediately all signs of any dry areas come under complete control, even those that have been a long term problem will be resolved. This remarkably effective state of the art skincare product is custom made with care and precision in our quality standards so that the consumer is getting a superior performing product. It has our exclusive Vital Cell Induction Process setting this product apart from everything in the marketplace. Your continued use of our high performance skincare offering leads to a beautiful looking complexion that you will be able to maintain and this will further improve with a long list of benefits that include line reduction and wrinkle amelioration and a youthful looking skin tone. As your overall complexion appearance improves markedly your family and friends will begin to ask what you are using.
This product is made from the finest natural ingredients such as coconut, grapeseed, borage oils and with our innovative biophysical input you get a powerful yet natural based protection from the ongoing breakdown of your existing collagen and elastin. This very gentle formulation basis will delight even the most demanding and delicate skin. Furthermore, our unique and proprietary biophysics input speeds up the benefits for your complexion, and now for the first time ever in a topical, you will get a profound skin firming action that is unmistakable as shown in our demonstrations. Starting with an immediate and permanent control of any stubborn dry skin areas, you will then be delighted with the emerging smoothness of lines and wrinkles, and also an amazing overall softness much like baby skin. The profound boost in skin suppleness noticeably emerges within the first week and will definitely impress your most critical self-inspection. You will come to be absolutely delighted with an overall youthful looking skin that abounds in your complexion! Use our Cell Vitalizing Preparation as your most effective overnight treatment and this can be also applied sparingly as an undercover base during the daytime... giving you around-the-clock rejuvenation benefits. Remarkably, this is a powerful tool for skin that is in need of a thorough rejuvenation OR simply for maintaining your best look for as long as possible.
DEMONSTRATION OF THE BIOPHYSICAL INNOVATION - TRUE SKIN REJUVENATION
Why should you use Cell Vitalizing Preparation to prevent Sun damage?
Advanced Biophysics Technology For The Health Of Your Skin Cells
What happens after your day at the outdoor attraction or the golf course or maybe on the water?
Did you apply Sunblock? Yes, but did you reapply it at least every 2 hours?
At the end of the day did you still find yourself a bit inflamed and uncomfortable?
Now with Dermagen Cell Vitalizing Preparation you will have a reliable happy ending for your day out.
Exclusive skincare capabilities from Radiant Skin Sciences
Dermagen is powerful and provides post exposure repair in a natural based skincare
Remarkably some consumers still do not protect themselves and become sunburned - Here is a failsafe repair tool for them!
A powerful yet gentle skin cream that calms the redness

Fast soothing action within 10 minutes with no chemical anesthetic!

Enjoy your evening and then sleep like a baby when the day is over…

Next day have a calm complexion appearance – with NO SKIN PEELING!

As a bonus all dry patchy areas will become fully hydrated for your best look
This groundbreaking skincare product now offers the consumer a quick and effective course of action for eliminating the dreaded experience from extreme sunburn and replacing that with a calm looking and well hydrated skin.
The capability to remedy the accidental sunburn after the fact is priceless for those that are careless with maintaining their sunblock applications over the course of the day.
So this is great news for anyone that unfortunately became sunburned - you get a quick skin cell repair!
In addition to providing a powerful skin healing from excessive exposure to solar radiation, our Cell Vitalizing Preparation can also be very effectively be used to help minimize skin cell damage as your day outdoors progresses. And it will work reliably, day after day to push back on cumulative skin aging. You can apply this product in the morning or 30-45 minutes before you go out and by allowing it to absorb into your skin you will be helping to reduce the resulting skin cell damage. Then you follow up apply your sunblock or a foundation cover with SPF as you normally would during the time outdoors.
Later in the day once you are no longer exposed to the Sun and are no longer perspiring, you can apply it again to get the earliest beneficial action underway to heal and reverse any complexion reactions to the solar exposure.
Of course once you have showered / bathed at the end of your day outdoors apply this breakthrough product to work overnight on the skin cell repairs.
How To Use Dermagen To Avoid Long Term Solar Damage And To Preserve Youthful Looking Skin
Dermagen Cell Vitalizing Preparation serves to provide a superior performance across a variety of skincare categories to keep your complexion in great shape by constantly correcting the damage incurred from environmental stresses while also helping to keep bountiful rate of collagen production underway. Not only does this product deliver superior anti-aging capabilities that have not been seen before in skincare, it will also serve as a powerful tool for those that love the outdoors as it contains a proprietary biophysics technology that elevates the effectiveness in the product to a level that far exceeds what other brands can do. Originally the research investigation examined the skin anti-aging capability as can be seen in the remarkable demonstration of the innovation on this website. There are primarily two types of skincare consumers, those that strongly avoid solar exposure and those that seek to achieve a balance in their lifestyle, between doing what they can to maintain their complexion while also engaging in enjoyable activities that include the outdoors.
Do you carefully avoid the Sun? Using Dermagen directly supports your goals
Many consumers tend to fall in this category and try to minimize direct exposure and also use SPF containing products as an aid for this. However, the fact is UVA and UVB rays still find you in the shade and in your car and some of this will always pass by the SPF cover you may have applied. By using Dermagen Cell Vitalizing Preparation as your go-to base application at the beginning of your day, you will have greatly assisted in working towards achieving your zero tolerance goals. This is because of the breakthrough in skin cell repair that you will then have in place as you go through your day. Apply the daytime application lightly and this makes for not only a fabulous skin cell repair action, but you also get the all-day-long fresh vitalized look to your complexion as described in the product innovation features section on our exclusive Vital Cell Induction Process (for details on this see the "Demonstration of the Biophysical Innovation" link above). Amazingly, even if you have already sustained some degree of solar damage to your skin upon coming to this product, you will find that this biophysical protocol will significantly turn it back to newer looking skin (young vitalized cells at the surface) and give you another chance to take care of it. After cleansing in the evening, you will again apply Cell Vitalizing Preparation as your overnight moisturizer and of course it will be doing so much more for you than that. So using this product to its full potential is fairly easy and you will notice a steadily improving look and feeling of a rejuvenation of your skin, from which you will never retreat.
Would you love having the freedom to spend more time outdoors?
Okay, so you want to look great forever right? BUT you also want to enjoy yourself with those various outdoor activities that you love to do. Maybe take the kids out to the water park, or you would like to go out and play some rounds of golf or perhaps do some jogging to stay in shape. Conflict? Well yes, this has always amounted to a definite conflict because of a gradual complexion breakdown, primarily of your skin collagen, from the damaging effects of solar exposure. In fact, your degree of cumulative Sun exposure has long been considered the primary factor for affecting the amount of resulting extrinsic skin aging you will experience.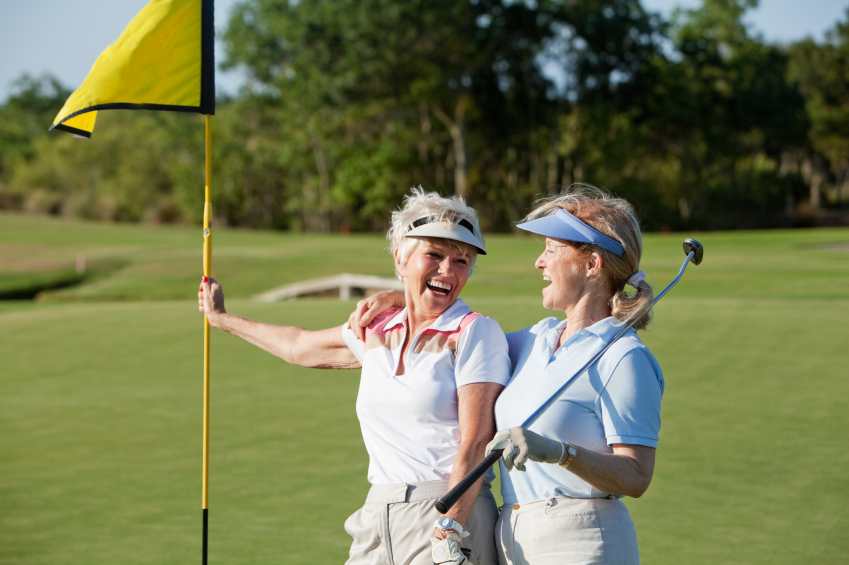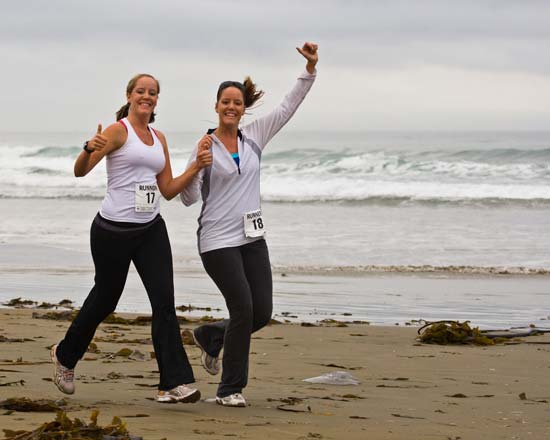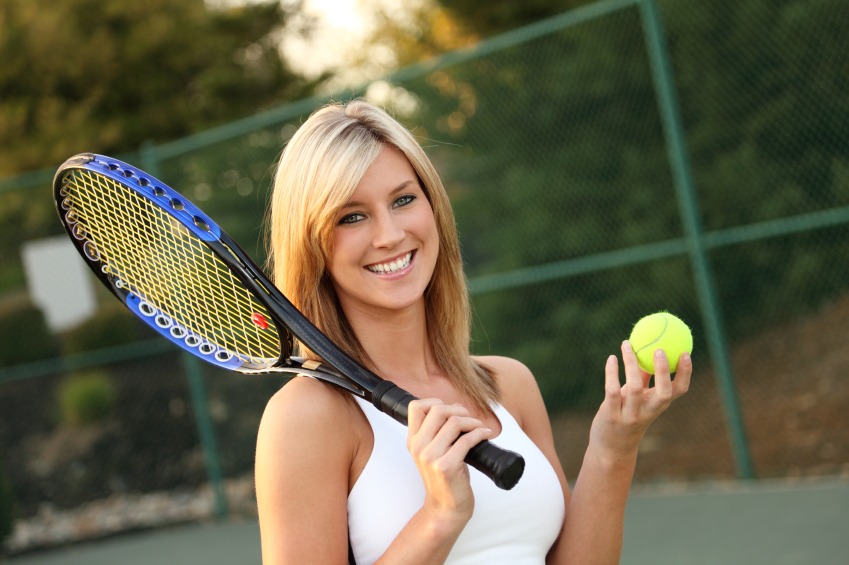 The newfound powerful capability for skin healing has been achieved as a result of the innovative biophysical technology in our products and is a needed performance function for meeting some of the varied skincare challenges that come with our modern lifestyles. From this performance breakthrough, the consumer now has the opportunity to enjoy their time outdoors and all the while they will be providing a robust perpetual rejuvenation of their skin and avoiding cumulative Sun damage to the complexion. Is this a free pass to go ahead and abuse your common sense measures for your self protection from photo exposure? Of course not. But by using Dermagen Cell Vitalizing Preparation as your around-the-clock skincare application you will be far, far ahead of any other skincare protocol and you will preserve your best look going forward.
If you are prone to find yourself outdoors on a routine basis, it is best to be sure to apply this product every evening as an overnight treatment to protect yourself from photo aging. By continuing to use Dermagen Cell Vitalizing Preparation on a daily basis morning and evenings you will then enjoy a similar degree of profound skin protection and rejuvenation as you see in the demonstration.
In summary: Here is a product with a profound skin rejuvenation and healing action!
Now with the advent of the advanced technology that Radiant Skin Sciences brings to your skincare choices you will literally supercharge the vitality of your skin and keep it looking great. As demonstrated, it will rejuvenate old tired looking skin and will be helping you to look younger. It will freshen the younger complexions even those in your 20's, so that others will ask what are you using. Add to that the ability to continuously make vigorous ongoing repairs on skin that is exposed to the outdoors, and still keep you looking great.
If you are looking for skincare that can actually be a long term tool for you to slow down the appearance of complexion aging... this is it!
Continue using Dermagen Cell Vitalizing Preparation and enjoy great skin rejuvenation…
| | | |
| --- | --- | --- |
| | | There is a better way to enjoy your lifestyle... |
Dermagen Cell Vitalizing Preparation
Proprietary Biophysics Technology Providing A World Class Skin Rejuvenation
Advanced Wrinkle Amelioration

Superior Skin Smoothness and Softness

Vigorous Photo-Damage Repair

Confers An Ultra Homogenous Skin Tone

Powerful Endogenous Matrix Factor Production

Rapid Onset Control Of Any Dry Skin Areas

Confers a Unique and Powerful Skin Firming
---
.
.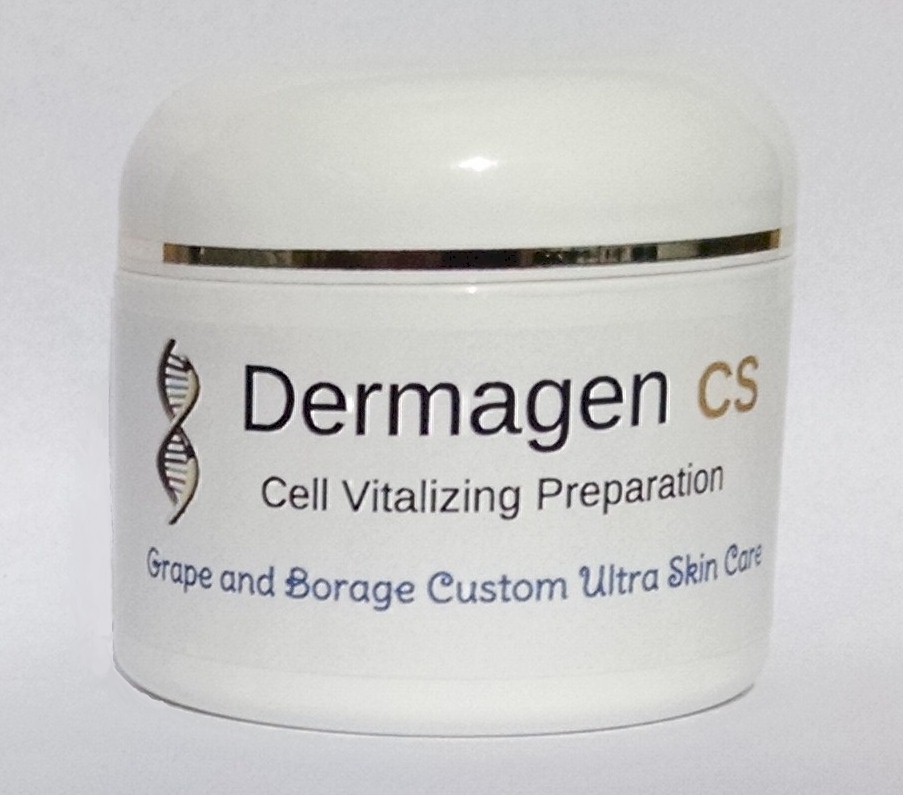 Dermagen Custom Made Grapeseed and Borage - Ultra Gentle
Our custom made premium skincare mixture consisting of only grapeseed and borage as the oil basis is what many consumers in the know have been looking for and not able to find. For those individuals whose skin is highly sensitive to some of the various new wave "anti-aging" ingredients that are now found in the latest skincare offerings, we have the answer for you by going back to the very essentials set by Nature to be fundamental for the maintenance of healthy youthful looking skin. Contains our exclusive Vital Cell Induction Process. Grapeseed oil (contains desired linolenic acid) and Borage oil (also very rich in highly desired gamma linolenic acid) make for an effective luxurious crème that is not greasy yet feels substantial. Keep refrigerated when not in use.
Grape & Borage Custom Ultra is the go-to gentle answer for highly sensitive skin.
Dermagen - Grapeseed and Borage Oil Custom Ultra Gentle 2oz Jar $39.95
---
.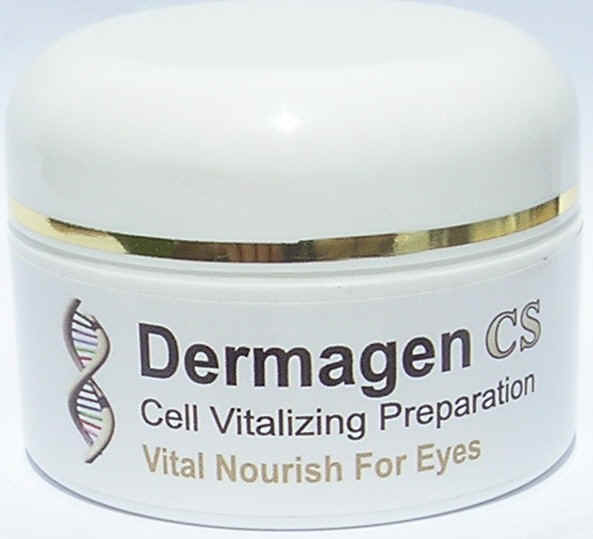 Dermagen - Vital Nourish For Eyes™
Vital Nourish For Eyes is especially designed to improve for those difficult cases of a weakened and fragile skin structure around the eye area. In a natural based formula it combines the gentle benefits of grapeseed and primrose oils mixed with a strategically selected group of nutraceuticals that work together to feed and regenerate the delicate undereye area. Attaining the enjoyment of a youthful looking eye area is all about the condition of your underlying skin matrix and our exclusive Vital Cell Induction Process that drives the dynamic towards a positive net production of collagen and elastin for maintaining tissue integrity, and also of glycosoaminoglycans and proteoglycans that are special biological polymers whose key role is to hold moisture in the skin.
Protection from glycation issues is particularly important around the eye and this formulation contains a generous portion of carnosine for defense. Vital Nourish for Eyes is a novel product is entirely gentle with your eye area yet has the amazing capability to freshen, brighten, firm, and smooth the skin... all of this done without any irritation! The cell rejuvenation features are outstanding and the biophysical enhancement works in tandem with a powerful chamomile extract that acts as a penetration enhancement that helps to boost the delivery of the carnosine and the nutrient oils. This combination results in a breakthrough which empowers the crème to remarkably Super Vitalize your under-eye skin tissue. This advanced product helps to nourish, soothe, moisturize, and firm the delicate eye area of all skins above and beyond anything you have ever tried before. Those difficult cases of darkened, wrinkled, or irritation under the eye areas will all respond to this crème. Vital Nourish For Eyes is in a .5 oz Jar.
Using a dab of our Vital Nourish For Eyes every night before bedtime will perpetually rejuvenate your look
.
---
---
.

Dermagen - Bio Gentle Vitalizing Cleanser™
Enhanced by our exclusive process to benefit your complexion, here is a cleanser that thoroughly cleans, yet leaves your skin pampered and free of irritation! Bio Gentle Cleanser uses a unique blend of mild cleansers and nurturing vitamins including Green Tea, Grapeseed, Vitamin A palmitate and Vitamin E. It cleans pores gently, but effectively, and naturally removes excessive skin oil. This natural based fragrance free formula is water soluble and is useful in conjunction with the Dermagen-cs regime to help bring out the very best results. Bio Gentle Vitalizing Cleanser is in a 6 oz bottle.
With our exclusive Vital Cell Induction Process the Bio Gentle Cleanser helps to provide a mild and natural exfoliation and is an ideal choice to use with the Cell Vitalizing Preparation.