"This remarkable skincare breakthrough originated as a side project to try and see if I could help my wife Linda with her extensive skincare problems that included a chronic dry skin and the painful flushing of rosacea. I was doing original experimental work incorporating natural based energy fields trying to improve plant culture for nutritional quality and yields when the first treated skincare products were created for her incorporating a proven biophysical protocol. Linda has now been using our innovation in her skincare for several years. Without really trying to promote it, what started as a personal project to help with her skincare issues then became the rage with her friends and co-workers as they saw the difference and wanted to get in on her "discovery" and now we will be sharing this wonderful innovation with the public. This results in an excellent skincare experience that excels far above what is typically found in the marketplace."
skincare innovator -

Now There is a Powerful and Healthy Way to Actually Vitalize the Appearance of Your Complexion!
As shown above, for the first time there now appears to be a working skincare protocol that is both natural based and very healthy for the skin that when used over the long haul will actually put off or forestall the aging of the skin thereby preserving a younger looking complexion well past the normal time span. You can seemingly hold off the apparent give away of chronological age by preserving the complexion with the continued use of skincare with Vital Cell Induction.

REVITALIZE THE APPEARANCE OF AGED SKIN
A profound rejuvenation of an aged skin is gained simply from using the product as a moisturizer and illustrates that the innovative natural based energy input for skincare called 'Vital Cell Induction' is now capable of rejuvenating extremely aged skin tissue back to a youthful look. While this is something suggested by so many skincare brands in the world today, we can present actual photographs of appearance transformation such as those shown achieved on Kathy.
Most all consumers are searching for this effect in their skincare and with our Vital Cell Induction it is now available as a simple and elegant innovation in a natural based formulation. As their usage continues with our novel technology that actually raises the resident vitality of the skin, they will begin experiencing the true skin rejuvenation they have been looking for.
Vital Cell Induction provides benefit across a spectrum of consumer need
A)Rejuvenation of Aged Skin Tissue - Trending towards a reversal of apparent age
B) Draws cell vitality upward from within providing an ever-present radiant and lively looking complexion
C)Long-term Usage Preserves a Youthful Looking Complexion!
Radiant Skin Sciences Advanced Technology for the Skincare Consumer
All the skincare brands in the world today...

Draw from a common pool of ingredients

( And some of those are widely advertised as breakthroughs for you )

The problem with that is: A test tube result does not necessarily mean you will see a meaningful benefit when that "new miracle ingredient" is applied topically in a skincare product.

So what is needed to beautify is a way to overcome these limitations

Our Exclusive Vital Cell Induction Process opens a new chapter in skincare sciences by unleashing the inter-cell potential of those ingredients and goes deeply into your complexion.

In doing so makes all the difference in what you will experience from your skincare regime.

What can you expect from Dermagen? No Empty Promises!

A CHECKLIST FOR PERFORMANCE YOU CAN BELIEVE IN

ü From the first few days onward - notice a lasting prominent moisture

ü Starting in the first few days see an improvement in your overall look

ü In only 1 week wrinkles begin noticeably reducing

ü In only 1 week skin brightness is noticeably improving

ü 1st week & onward the skin softness and smoothness is vastly superior

ü 2-3 weeks wrinkles and firmness greatly improving & will continue

ü The Biophysics input rejuvenates your matrix deeply and thoroughly

ü The Biophysics technology provides a unique long-term preservation
Linda's complexion shown at the top of this page is an inspiring example of the truly remarkable anti-aging and complexion preservation capabilities that are unmatched anywhere in the worldwide marketplace for skincare. Now having been tested and utilized in the skincare setting for several years, our vitalized skincare products will help keep the skin much more healthy and provides your clients with an observable and gratifying improvement for their complexion. Use our Cell Vitalizing Preparation as your moisturizing skincare and you will experience a remarkable newly found hydration with a calm looking yet highly vibrant and bright complexion that feels very soft to the touch and is smoother looking than ever before.
This capability far exceeds anything that the giants in the industry have on the drawing board much less in the marketplace.
Also, if you have been finding yourself doing an afternoon touchup because of an overall tendency towards a dry skin condition... you will love the new all day 'fresh look' that you will experience. Your dry complexion will be gone forever. Linda is shown above after a long day with her complexion looking still quite fresh!
Not only does it have the power to thoroughly rejuvenate a tired older skin that looks it's age into a much better looking skin, but this is a remarkably effective working tool for you to use to protect your complexion from apparent aging as those years roll by. This breakthrough is set to revolutionize the skincare industry and represents the first true example of a working cosmeceutical!
Dermagen CS is like no other skincare product you have ever used before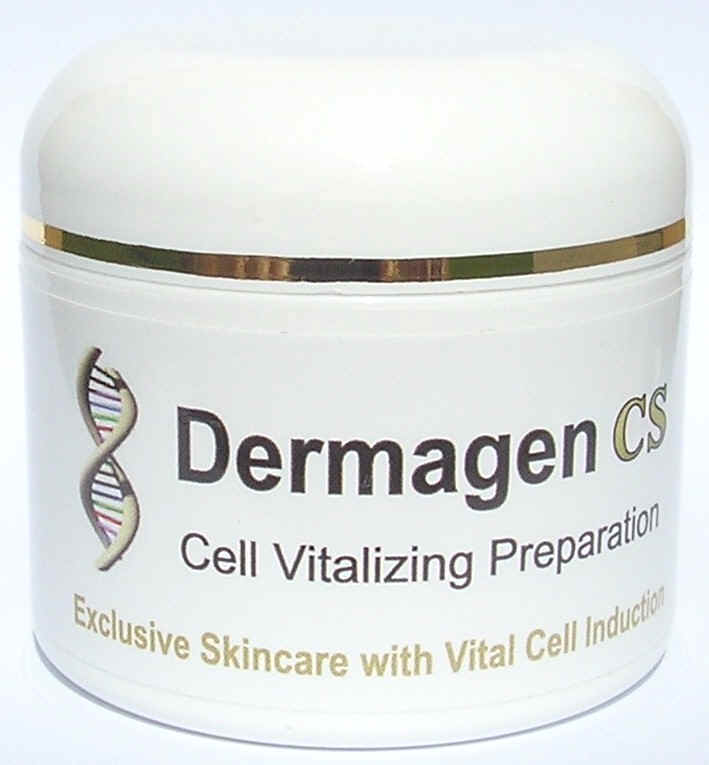 Bountiful Hydration That Runs Deep
World Class Line and Wrinkle Reduction
Regeneration of Tired Skin into a Fresh Look Complexion!
Firming and Sag Reduction with Continue Use
All Natural Based Formula
Exclusive Biophysics Input For Enhanced Performance
Will Preserve a Youthful Looking Complexion and Forestall Skin Aging
Simply use as your overnight moisturizer and a light application during the day

© Radiant Skin Sciences - All Rights Reserved
Disclaimer:
Statements made and products sold on this website have not been evaluated by the Food and Drug Administration. Products are not intended to diagnose, treat or cure any disease.